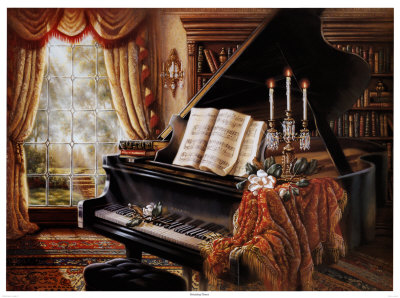 Our home has become one of beautiful music! I've always thought that having a piano just makes a home seem very cozy. Last month Katie was gifted with one from my sweet little sister. It's a console Baldwin and has a beautiful sound to it. At just the same time that we were looking for lessons for her a small music store opened in our little town and she's taking lessons from a wonderful teacher, she calls him her piano professor!
She's been taking lessons for three weeks now and I am so enjoying her playing. She plays very well and although the songs are repetitious while she's learning I don't mind at all. The sound is just so soothing and I find myself just daily walking around our home and thanking the Father for always providing. His timing is always perfect, she's wanted to take lessons for many years but I think that as a mature young woman she is so thankful for the piano that she is totally dedicated to practicing. It's almost as though when she sits down at the piano she is finally able to expend some of the creative energy that has been just waiting for those piano keys!
Christopher also has been blessed with the gift of a guitar, it's an electric guitar and he has been practicing almost daily. He actually doesn't turn the amplifier on, truly I think he's more an acoustic guitar kind of guy but he's just thankful for the guitar. He's also been helping Katie with her practicing and setting the metronome for her. Actually the metronome is the laptop, he just went to a website and downloaded the metronome for it for free. He just sets the laptop on the piano and has it clicking away keeping time for her. It's just another way the internet is a wonderful thing. Metronomes can be expensive and this works perfectly for us. Christopher also borrowed an accordion from my little mama, she's had it for over 50 years and it works like a charm, he's becoming interested in playing it from some of the music he enjoys. He loves to listen to Andrew Peterson and enjoys the instrumentals in his music. Both Christopher and Katie get their music talent from my parents, both of them can sing and play multiple instruments. I can neither sing nor play any instrument very well, guess that passed me by. Tommy has a violin that he's had for a few years, now that he's on his own I don't think that he practices it but maybe down the road he'll decide to play again, I think they all have the talent and an ear for music. I like listening to music…LOL and can play a mean 'Little Johnny Jones' but that's as far as it goes!
We're looking so forward to fall, these 90 degree days are getting very, very old and we're ready for some cooler temps and being able to throw those windows wide open!
Life is very simple here in our home and that's just the way I like it!